Best paper award
ANTS 2004, continuing a tradition started with ANTS 2002, has assigned a "Best paper award".
In this edition of the workshop the prize consisted, in addition to a certificate signed by the conference organizers, of the sculpture of an ant expressly created for ANTS 2004 by the Italian sculptor Matteo Pugliese.
The prize can be seen in the pictures below.
All ANTS 2004 participants have had the right to vote for what they considered to be the best among all the full papers presented at the workshop. The most voted paper was presented by Muddassar Farooq, and co-authored by Horst F. Wedde and Yue Zhang of the University of Dortmund, Germany. The paper was titled:
BeeHive: An Efficient Fault-Tolerant Routing Algorithm Inspired by Honey Bee Behavior
Our congratulations to the winners!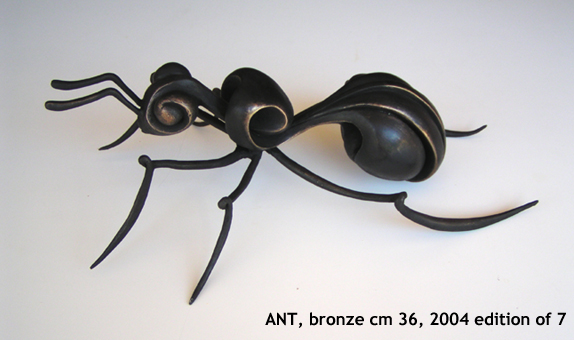 Matteo Pugliese's sculpture awarded to the best paper presented at ANTS 2004
| | |
| --- | --- |
| Marco Dorigo presents the best paper award | The commission counts the votes |
| | |
| --- | --- |
| Dr. Muddassar Farooq receives the prize | Dr. Muddassar Farooq receives the certificate |